You can travel from Zipolite to Huatulco by private transfer, rental car, or taxi. Check out our guide with all the important information.
Huatulco, located in the southern state of Oaxaca, Mexico, is a destination full of surprises and wonders. With nine bays and 36 beaches, each with its own unique beauty, you'll have plenty of opportunities to enjoy the sun and dive into the clear waters.
In addition to its breathtaking scenery, Huatulco also offers a wide range of attractions and activities that will keep you entertained and engaged.
The town of Huatulco itself is charming and filled with colorful local markets, art galleries, and delicious restaurants serving up traditional Mexican cuisine.
The lush jungle surrounding Huatulco provides a perfect backdrop for outdoor adventures, and the local culture and cuisine will delight all your senses.
So if you're looking for a holiday that combines natural beauty, exciting activities, and a taste of authentic Mexican culture, Huatulco is the perfect choice.
And if you're wondering what's one thing Huatulco is most known for, we'll tell you that the beaches there are not to be missed! You can explore Huatulco's beaches by booking this this Premium Boat Tour with snorkel experience!
Book today and experience an unforgettable beach adventure in Huatulco!
Check out our guide for all the important information on traveling from Zipolite to Huatulco.
Distance from Zipolite to Huatulco
The distance from Zipolite to Huatulco is about 50.8 kilometers or 31.6 miles.
It takes around 1 hour and 10 minutes to travel by car from Zipolite to Huatulco.
Getting to Huatulco from Zipolite
1. Private Transfer from Zipolite to Huatulco
Travel time: 1 hour 10 minutes
The first and simplest way to get from Zipolite to Huatulco is by reserving a private transfer!
With this option, you have a lot of flexibility and can set your own schedule. Organize where you'll be picked up and dropped off, take breaks as needed, and decide on the best time to leave.
This is also a great alternative if you're traveling with other people! Different vehicles are offered at various prices depending on the size of your group.
This is a cheap alternative for the trip if you split the cost with your group. So the more people you travel with you, the more the price pays off!
It takes roughly 1 hour and 10 minutes to get from Zipolite to Huatulco. And you won't have to stress about driving yourself, so you can sit back and relax!
So gather your company, look over your options, and reserve a private transfer from Zipolite to Huatulco online!
Prices for a private transfer from Zipolite to Huatulco
1-4 passengers: USD 137
5-10 passengers: USD 179
Do you need help arranging your transportation?

Complete this form and one of our transportation specialists will contact you!
We specialize in arranging transportation across Guatemala, Costa Rica, Mexico, Peru, Panama, Brazil, Thailand, and Colombia!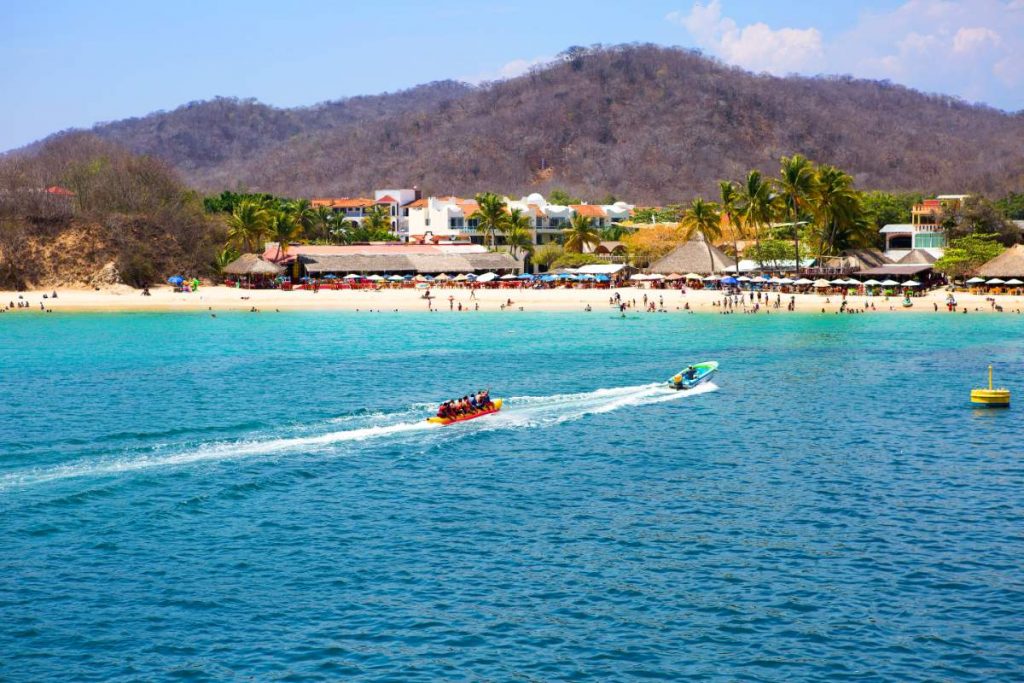 2. Driving with Rental Car from Zipolite to Huatulco
Travel time: 1 hour 10 minutes
Despite the proximity of Zipolite and Huatulco, renting a car to navigate the region and move between these two beach towns is still a fantastic choice to take into account.
A fantastic option if you want to plan your own journey, stop anywhere you choose along the way, visit the Oaxacan coast, and go exploring is to rent a car and drive from Zipolite to Huatulco.
Having your own vehicle allows you complete independence when traveling. Despite the fact that it might be a winding and rocky road, the trip is still very enjoyable and scenic!
You can leave and return anytime you like to your hotel, and it takes just 1 hour and 10 minutes to reach Huatulco.
You can find a variety of low-cost car rentals in these parts of Mexico, making this option worthwhile. Visit RentalCars to browse all the vehicles available and make the most of your car rental experience!
We recommend you make a reservation in advance!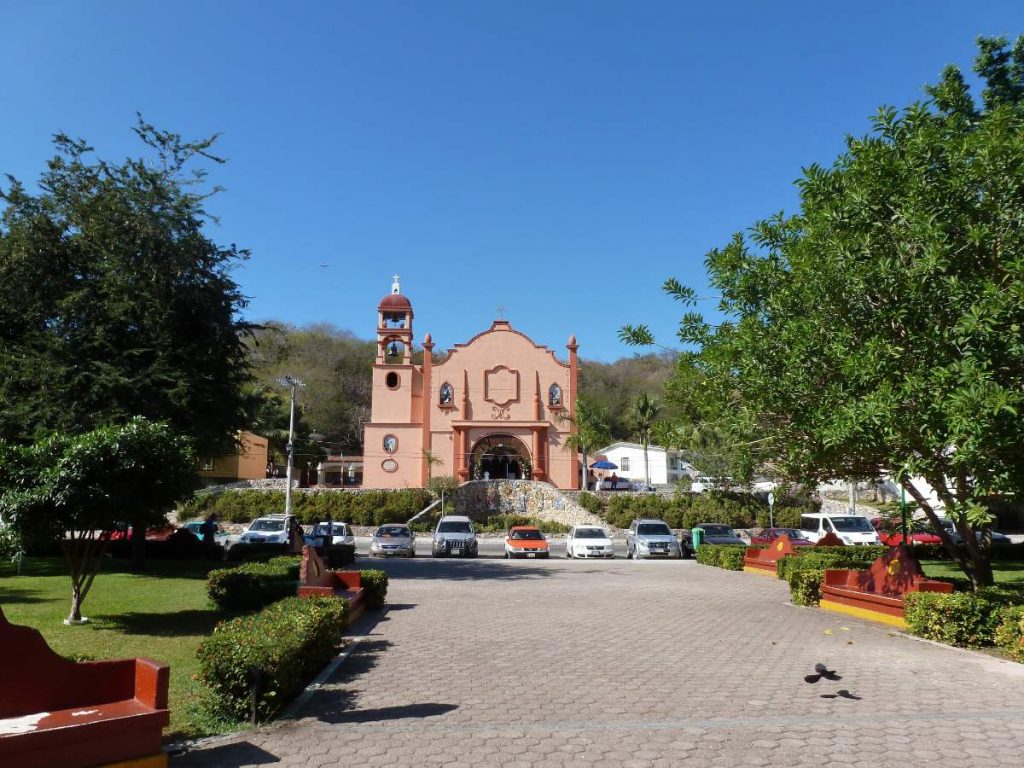 3. Taxi from Zipolite to Huatulco
Travel time: 1 hour 10 minutes
A taxi is another option if you need to travel quickly from Zipolite to Huatulco without making a private shuttle reservation.
It takes a taxi 1 hour and 10 minutes to get to Huatulco, and it's more convenient if you're going with a group of people so you can split the cost.
You can hail a cab from any location in Zipolite at any time of the day. You can also ask your hotel for a taxi company recommendation or assistance.
Try to bargain or at least agree on a price before calling a cab, and consider whether splitting the cost among your group would be practical and cost-effective. To prevent being taken advantage of, anticipate paying roughly USD 50 for a taxi from Zipolite to Huatulco.
Additionally, keep pesos on hand at all times because most cabs won't take US currency.
Best day tours in Huatulco, Mexico
Get Your Guide is your best choice for all your travel plans! They have always helped make my travels exciting and unforgettable, so I highly recommend them!
With Get Your Guide, you can discover authentic travel adventures and take advantage of personalized suggestions and itineraries with more than 60,000 guided tours, famous landmarks, and much more!
Check out the following widgets for more day tours in Huatulco, Mexico!
Frequently Asked Questions
What is the cheapest option to get from Zipolite to Huatulco?
Sharing the price of a private transfer or a taxi with a group is the most affordable option to travel from Zipolite to Huatulco.
The price of a private transfer varies depending on the number of people and a cab costs approximately USD 50.
Therefore, the price per person can vary based on how many people you have traveling with you, and it's up to you to determine which is the most economical choice!
Is there a bus from Zipolite to Huatulco?
There isn't a bus that travels directly from Zipolite to Huatulco. In fact, there is no public transportation. Therefore, your only option is to use a taxi or a private shuttle.
How much does a taxi from Zipolite to Huatulco cost?
Taxi fares from Zipolite to Huatulco are based on the time of day, demand, and sometimes your negotiating skills. The price is typically around USD 50, although it is recommended to negotiate a deal before leaving for the trip.
What are some recommendations for transportation companies for the trip from Zipolite to Huatulco?
We suggested using GuateGo to arrange a private transfer from Zipolite to Huatulco, GuateGo is a trustworthy and reliable platform that you can use to find transportation for your trip.
Additionally, if you want to use a taxi, you can ask your hotel or hostel for suggestions on taxi services.
Is there Uber in Zipolite?
No, Uber is not currently available in Zipolite or anywhere else in the state of Oaxaca.
Is there an airport in Huatulco?
Bahas de Huatulco International Airport (Spanish: Aeropuerto Internacional de Bahas de Huatulco) (IATA: HUX, ICAO: MMBT) is a major airport serving Huatulco, Oaxaca, Mexico.
More Routes from Zipolite